Blackjack TV Schedule

WSOB

Mondays
10pm est
GSN
Encore Sundays
10pm est
GSN
Tuesdays
2am est
GSN

Celebrity Blackjack

Sundays
2am est
GSN

Ultimate BJ Tour

Sept 23
2pm est
CBS
Sept 30
2pm est
CBS
Oct 14
2pm est
CBS
Nov 4
2pm est
CBS
Nov 18
1pm est
CBS
Nov 25
1pm est
CBS
Dec 25
12:30pm est
CBS
Dec 31
2pm est
CBS
online casino
How to play Blackjack Switch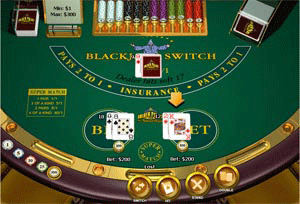 Screen shot taken from GoldenPalace.com online casino

To a novice player, upon first glance Blackjack switch may appear to be as different from Blackjack as Poker is to Craps. Although the initial Blackjack table differs from the traditional Blackjack table, Blackjack switch has more in common with Blackjack then one may think. There are a couple differences in set up, and game rules, however these factors can be in the players favor. Taking a look at the Blackjack switch table, you will notice there are two betting areas as well as an area to bet on a "super match". Unlike other forms of Blackjack, in Blackjack switch the player plays 2 hands at the same time. The initial wager for each hand must be the same. Before looking at other differences in table appearance we are going to focus on the betting areas and game play. Once bets are in, cards are dealt to both playing areas. This will appear more like the original Blackjack you are more familiar with. Here is a catch though, upon taking a glance at your cards, before asking for a hit or stand, you have the option to switch cards between hands. If desired a player is allowed to switch the second card dealt in each hand.

For example if the first cards dealt are an Ace to hand 1 and an 8 to hand 2, then the second card dealt is an 8 to hand 1 and a King to hand 2, it is more beneficial to switch the 8 from hand 1 and the King from hand 2, giving the player Blackjack in hand 1. As you can see switching cards can be highly beneficial and can change the probability in your favor at the beginning of the game. After the initial switch, Blackjack switch continues as normal Black jack would. Each hand is played separate and both have potential for a win or a loss. Another difference is the addition of the "super match" area on the Blackjack switch table. This is an initial wager before cards are dealt to gamble on the odds of a pair being dealt to the player. The pair can be both in the same hand, or a combination of cards from each hand. Once all cards are dealt, if wagered, the dealer will look to see if any pairs exist, if so the player wins the super match wager, if not the player loses the super match wager. After the super match wager is determined Blackjack switch continues as normal.

As with normal Blackjack, in most land casinos and online casinos, the second card dealt to the Blackjack switch dealer is dealt face up. This allows the player to use the basic Blackjack strategy, the advanced Blackjack strategy as well as shuffle counting and card counting to help make important decisions on the approach to Blackjack switch. In many casinos as well, a tie with the Blackjack switch dealer results in a push instead of a loss. This changes the probability once again to the players favor allowing less chances of a loss and more chances of either a win or tie.

If a split is desired with a hand it may be performed, but only once per hand. For example if you split a pair of 8's, and one hand draws another 8 you can not re-split that hand. As with Blackjack, the best way to increase your probability of a win, and become quicker at deciding game strategy, is to practice as much as possible. This free online game link offers a great resource where you can practice Blackjack switch online anytime that is convenient for you, helping you become more familiar with Blackjack switch and the best strategies that can be used to strengthen your probability of a win.


Here are some different variants of Blackjack:
: A form of Blackjack where all cards to the dealer are face down.

: Similar to Blackjack with the goal of adding to 31.

: A form of Blackjack that allows you to give up half your wager and surrender your hand, unless you bust.